From the The Farmer's Friend at the Bow Little Market, I purchased this old pitchfork. It should come in handy for cleaning the chicken roosts, turning compost, and gathering hay. The only mark on it is "I-D-L Top" stamped on the handle. There are no manufacturer's mark on the tines
Even though I'm calling it a pitch fork, it may be a dung fork.
Pitchforks typically have only two, three or four tines while dung forks have four or five, other types of fork even up to ten tines with different lengths and spacing depending on purpose (Pitchfork – Wikipedia).
It could also be a straw or silage fork.
The number of tines would mostly depend on personal preference and the job it is being used for. Over the years most forks have been made with two to five tines. The two and three tines forks (the ones most commonly referred to as pitchforks) were used for loose hay, straw, and bundles of grain. In fact they are sometimes referred to as bundle forks. The four and five tine forks are in fact manure forks and were made for that purpose. Other forks of six or more tines have been made for silage, potatoes, beets, etc. Even saw one listed as a compost fork recently (hobartwelders.com).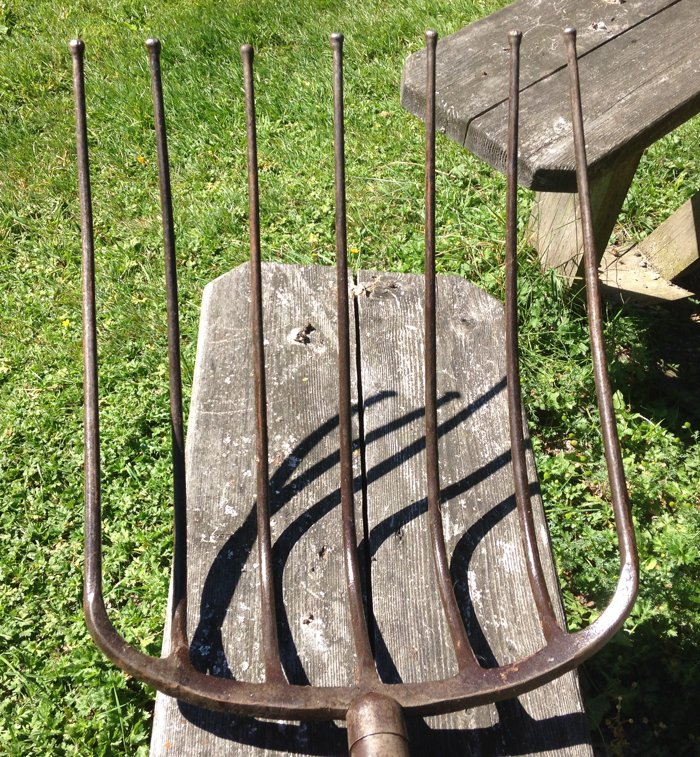 In any case, the fork is now back at work, helping out at a man and his hoe®.