Earlier this year I was examining chicken at a Whole Foods store and reading about the way they grade chicken. They have 5 grades of chicken and depending on the grade they tolerate from 0.5% up to 15% of a flock to have hock burn. Hmm, I thought, what is hock burn?
I discovered that
Hock burns are marks found on the upper joints of chickens and other birds raised on broiler farms. These marks are where the ammonia from the waste of other birds has burned through the skin of the leg, leaving a mark. Many meat processors now remove these marks as they discourage customers. Hock burn normally does not surpass 15% of a flock, according to poultry industry standards, but independent studies have found incidents of hock burn more common. Researchers at the University of Cambridge found that hock burn could be identified in 82% of chickens sold in supermarkets. (Wikipedia)
I was aghast. What farmer would ever raise chickens in such dire conditions that parts of their bodies get burned because they are sitting in so much shit! How can the Department of Agriculture and the Food and Drug Administration allow chickens to be raised in such filth? And these deplorable conditions are so prevalent that even chicken sold at Whole Foods has hock-burn.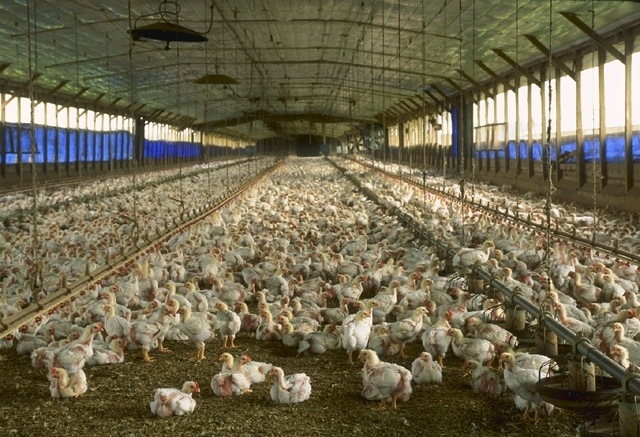 You will never find hock burn in any of my chickens. For one, my chickens are out and about all day running through grass, pasture, garden and woodland. Two, at night they sleep high above the ground on roosts. The straw and hay under their roosts is cleaned regularly. Their thighs are never in a situation where they would be sitting or standing in piles of shit. Chances are good that chicken you buy in supermarkets, even high quality ones like Whole Foods, is chicken that is wallowing in so much shit that it's thighs are getting burned. Do you really want to buy and handle such meat?
Today Consumer Reports posted an article, The High Cost of Cheap Chicken, about the high levels of bacteria, including antibiotic-resistant bacteria, on most chicken sold in supermarkets. This isn't surprising considering the deplorable conditions under which most chickens are raised. Also most chickens are fed feed containing antibiotics, increasing the likelihood that bacteria on these chicken farms will develop resistance to antibiotics. None of my chickens ever receive antibiotics. They forage for a large percentage of their food eating grass, bugs, earthworms, berries, and other delicious food they find. I supplement their diet with certified organic grains. According to the National Chicken Council
In practice, most chickens stay close to water and feed, which is usually located within the chicken house.
I've never had chickens that stay close to water and feed. Even if I dump out buckets of grain in the chicken yard, my chickens will feed on it for a few minutes and then move on to explore the brush, gardens, and woods. Perhaps the reason chickens on your typical chicken farm don't venture far from food and water is because they don't have acres of brush and pasture.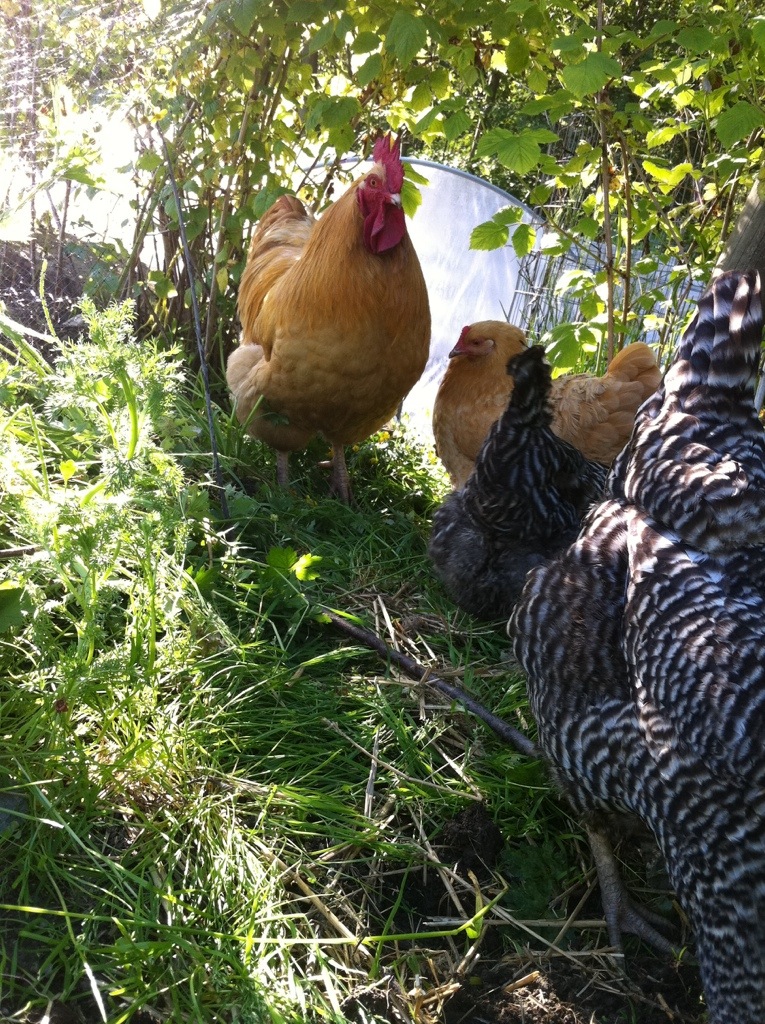 It means that the price of my chicken is exorbitant compared to other chicken, however you will be hard pressed to find more humanely raised and contented chicken.