[wpvideo 3y9aTj4J]

Imelda is curious about the new chicks. The last few days, she's spent a fair amount of time hanging out with the new mom and her chicks. Is she wanting to hatch eggs of her own? Does she think the chicks look good to eat? I don't think so because she's never shown any aggression toward the chicks. She just seems to enjoy hanging out with them.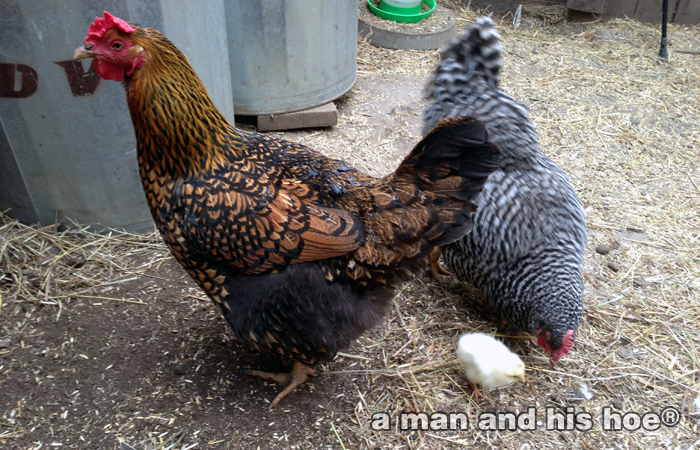 Another Dominique hen has gone broody. Today I prepped an incubation suite for her. She's been sitting on two wooden eggs for the last two days. Tonight, when it is dark, I'll move her into the incubation suite and put 10 to 12 eggs under her. Hopefully, in three weeks, I'll have another clutch of chicks. Moving broody hens is risky. Some will take to the new nest without a hitch. Others will want to go back to the nest where they were brooding.
This is the first time I've made an incubation suite. It will give the brooding hen, a safe, quiet place to sit for three weeks without being disturbed by the other hens. Besides having a dark, spacious nest inside the barn, she'll also have a small yard to eat, poop, and stretch her wings.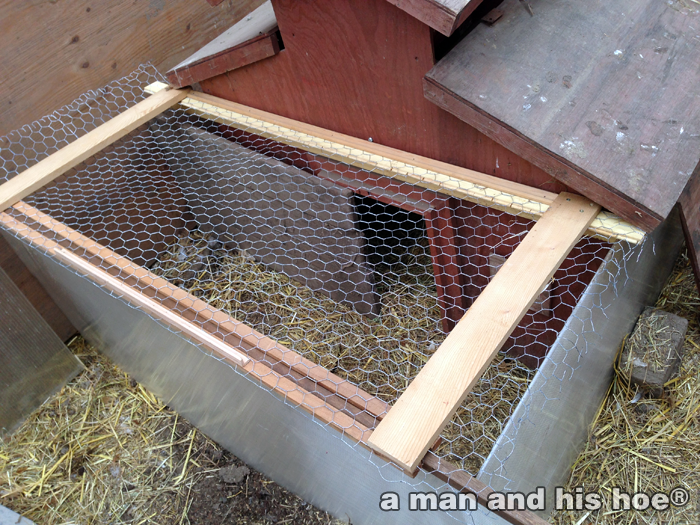 Often, when hens are incubating a clutch of eggs, other hens will insist on laying eggs in the same nest. Some hens stand their ground and won't budge an inch. However, all brooding hens leave their nest at least once a day to eat and poop. During the twenty to thirty minutes they are off the nest, other hens can hop on the nest to lay an egg. If they are still on the nest when the brooding hen returns, chaos often erupts.
Hopefully, the incubation suite will solve these problems, and give the brooding hen a carefree brooding experience. If she wants to go outside and enjoy a sunbath, I can slide open the side for her and close it while she is out, to keep her eggs undisturbed. Perhaps I should think about temporarily placing a RFID tag on her and wire a door so it would open and shut only for her.
Which brings me to my ultimate dream device: a tiny automated stamping device I could implant in a hen's vent so that every time she lays an egg, the egg would get a timestamp which includes the hen's name and GPS coordinates. The device would also have a super fast DNA decoder which would instantly determine which rooster fertilized the egg and stamp his name on the egg as well. Or if the egg was not fertilized, it would note that too. And of course, the device would send a text message with all of this information. Then I would instantly know when and where each hen laid an egg.