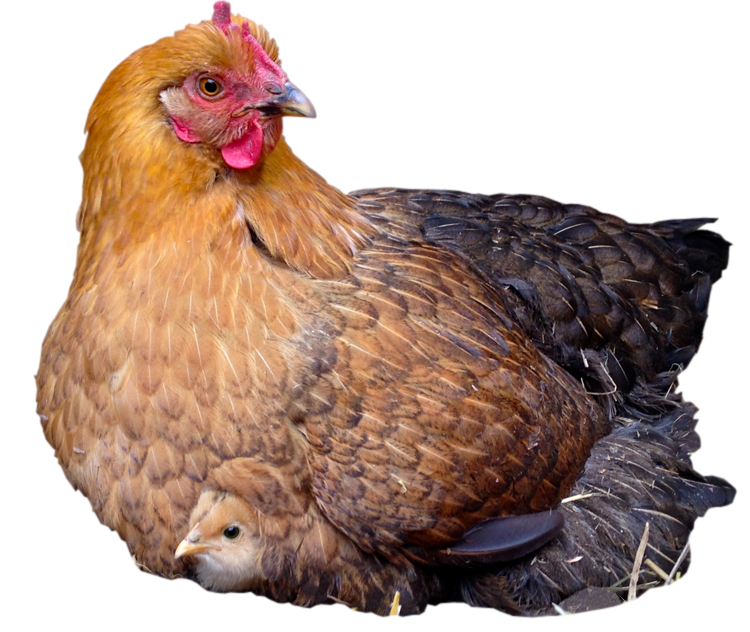 It's a cool December day, but that's no problem with a chick who has a mother. This picture was taken around noon when the mother hen was resting in the dust. All morning she's been taking her two-week old brood far and wide to feed. When it's time for a rest, the brood always has a warm place to snuggle under her feathers.
Is it worth it to take the time-consuming method to raise chickens this way? I often read comments from people who say, "We're just going to eat them. Who cares how they are treated." My response is, precisely because we're going to eat them, it matters more than anything how they are treated. Food is not just something we consume for pleasure. Our bodies take what we eat and turn it into the energy and raw materials needed to recreate the cells of our bodies. The cells that make up our bones, hair, eyes, skin, muscles, internal organs, everything that makes us are constantly dying and new cells being made from the food we eat. Every 30 days or so, our bodies recreate all the cells of our skin. Many of the cells in our bodies live only a few days to a few months. Our bodies recreate our livers every year to a year and a half. The quality of the food we eat determines the quality of our bodies.
When chicks have a mother, it's only a matter of days before they get to adventure outside and explore this wonderful world. Hatchery chicks need to wait two to four weeks until their feathers have fledged and they can tolerate the cold on their own. Chicks with a mother always have a warm mother nearby to warm them up when they get too cold. And at night, they can sleep in the dark without having to sleep under the constant light of a heat lamp.