The variety of meat chicken can provide is truly remarkable. Below is the leg and thigh meat of a roasted, fully grown rooster. The flavor and texture is very similar to a mild goat roast. If you closed your eyes and ate this rich meat, you would have no idea it was chicken.
Gina Bisco in her article Rediscovering Traditional Meats from Historic Chicken Breeds, describes the traditional chicken meat classes, broiler, fryer, roaster and fowl, which were used until the 1940s to describe the various types of chicken meat.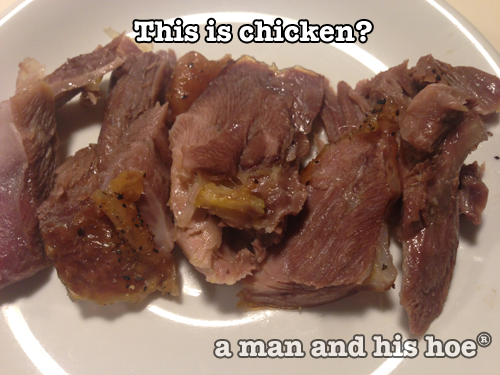 Up until the 1940s, the age at which a chicken was butchered determined its meat class. These classes are no longer used as modern chicken farming has dramatically speeded up the rate at which commercial chickens grow. Most now grow only six to eight weeks before they are processed. They eat voraciously, exercise little, and become fat birds in the blink of an eye. If humans grew at the speed modern chickens do, we would weigh over 300 pounds by the time we were two years old. At that speed, the traditional meat classes become meaningless as there is no difference between a six week old chicken and an eight week old chicken.
Don't click this link if you are the least bit squeamish, but you get a good idea what modern chicken farming is about in the video: 45 Days: The Life and Death of a Broiler Chicken. Don't worry, you'll never find such chicken at A Man and His Hoe. Chickens here are hatched from eggs incubated by loving mothers, and raised with the care only mother hens can provide.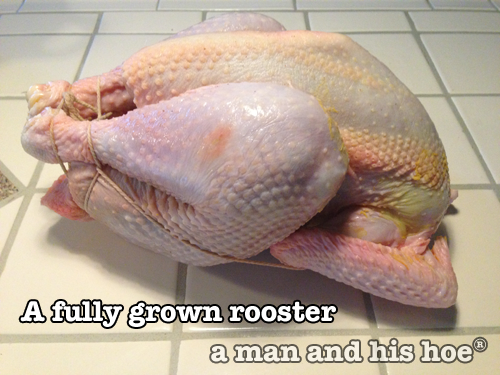 A fully grown rooster is quite impressive when it is trussed and ready to be roasted. Like all chickens which forage for food and walk long distances every day, most of the meat is on the legs and thighs. The redness of the legs and thighs shows through the firm skin.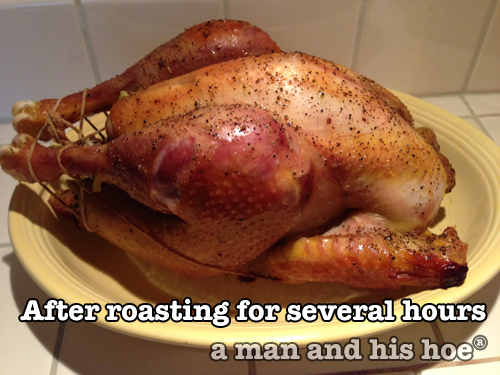 And roasted, the deep color of the leg and thigh meat is even more evident.
A rooster like this is slow food at its best. Not only do you have to let a rooster grow nearly an entire year, once butchered, you need to let it age in the refrigerator for at least a week before you roast it or pressure cook it, another great way to prepare fully grown rooster.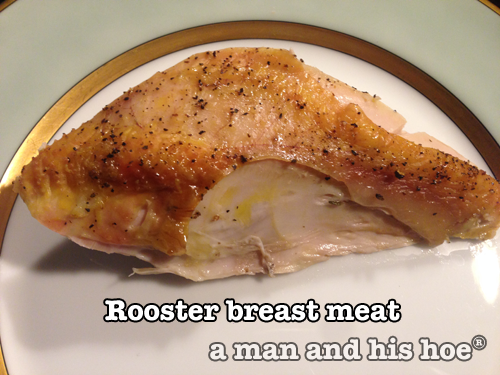 If you would like to try one of these magnificent birds, call or text me at 360-202-0386, or send an email to theman@amanandhishoe.com. Be advised, that these fully grown roosts are not available all the time, however you are always welcome to get your name on the waiting list for them.