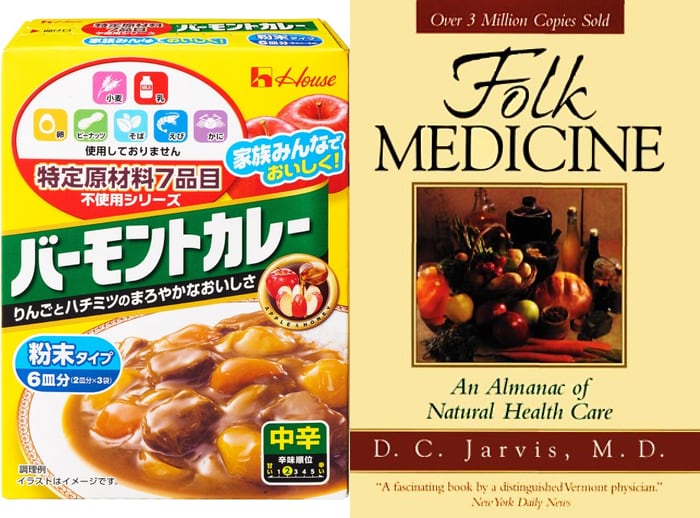 Growing up in Japan, I saw many advertisements for Vermont Curry by House Foods, one of the largest food manufacturers and brands in Japan. House Vermont Curry ads with their catchy tune were everywhere. I had a vague idea where Vermont was and thought they ate a lot of curry there.
Why Vermont? I don't think there is such a thing as Vermont Curry in Vermont. According to Wikipedia Japan, House Vermont Curry was launched in 1963. It comes in three levels of spiciness, mild, medium, and hot. The medium variety of House Vermont Curry is the number 1 selling curry in Japan today, mild is #2, and hot is #6, so Japanese eat a lot of Vermont Curry to this day.
The History
Reading the Wikipedia history, House was working on a curry using apples and honey in the early 1960s. At the same time, Vermont therapy was the rage in Japan. Vermont therapy? In 1958, a fifth generation Vermonter, Dr. Deforrest Clinton Jarvis (1881-1966), published his "Folk Medicine: A Vermont Doctor's Guide to Good Health". He advocated doses of apple cider vinegar and honey three times daily "to prevent and/or cure many common illnesses including arthritis, rheumatism, asthma, high blood pressure and colds."
His ideas reached Japan and became popular. House seized on the popularity of Vermont Therapy and slapped the name Vermont on their new curry. It is the most popular curry in Japan a half century later.
I'm sure Dr. Jarvis had no idea his book would lead to the development of the best selling curry in Japan. Vermont Curry sounds a lot better than Dr. Deforrest Clinton Jarvis Curry, which would have been a flop.
Hey, Bernie, here's an idea
I doubt many in Vermont are aware of this. Maybe Bernie could start tossing out boxes of Vermont Curry at his rallies. People could really feel the Bern then. Some town in Vermont could start up a huge travel industry by picking a log house where the "original Vermont Curry" was made when an immigrant from India was holed up all winter in the cabin with a Mohican and a French Canadian, and the three of them developed a curry with apples and honey. Vermont could have direct flights from Japan with tourists lining up to taste this original Vermont Curry dish in three flavors: French Canadian Mild, Mohican Spicy, and Indian Flame Thrower.